saturday, july 09, 2016
Channeling Van Gogh
I am proud to announce that I have been chosen as one of 115 painters to work on the upcoming film, "Loving Vincent". It was an arduous process of first submitting a portfoio of my work to the team in Gdansk, Poland. There were over 5000 portfolios submitted! I was chosen as one to come and test for the work, which is part painting, part animating the paintings, making them come to life, in the style of Vincent Van Gogh. The test was three days in the Gdansk studios. I passed! Then, I returned to be a part of a three week training session. During this time, if we did not meet their standards, we could be sent home. I also passed this and am now officially working on the film! It is hoped to be released in October of 2016.
Artists working here in Gdansk, Wroclaw, Poland and near Athens, Greece are from all over the world. This truly is an international effort! This is truly is a labor of love and a high tribute to Mr. Van Gogh.
The animation process is very difficult to learn. I feel quite accomplished as a painter, but animating paintings, in the style of Van Gogh, is quite another matter altogether. It involves first creating a Key Frame (KF) that is the beginning of the scene. It is often one of Van Gogh's classic paintings or it involves a character from one. A video reference is created first using actors and thier movements and conversations. The painters are given this as well as other references to compare each painting to the scene as well as to the likeness of the actor. Brushwork must be in Van Gogh's style...often thick impasto and in a colorful, broken-stroke style. As the characters move and speak, a new painting, or "frame" is created. The KF painting is photographed after the colors are matched via a computer monitor, which shows the color very differently than our eye sees them. Color matching is a crucial part of creating the KF. As we animate, we scrape off any parts that are moving, and repaint them, maintaining the original integrity of the color and brushwork. If any part is changed too drastically, it shows as the animation is played back. "Flicker" occurs when a non-animated part of the scene, the background wall or a table, for example, is "messed with" unintentionally during the painting. It flashes as a new color or shape that shouldn't be there.
Needless to say, this is very tedious and difficult work! Approximately 65,000 oil paintings are required in total for 80 minutes of animated film. On average, I would guess that about 100 frames of paintings will be required for about 10 seconds of movie! An average work day is 10 hours sitting at a canvas with the computer monitor and software. We make about 12.50 PLN per hour, which is about $3. Obviously, we aren't doing this for the money! But they do appreciate and need our skills to complete this film, a dream of the director, Dorota Kobiela, a native of Poland. Hugh Welchman is co-director. It is being made at Breakthru Studios and you can find out more about it here: http://www.lovingvincent.com/?id=home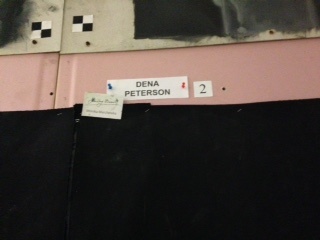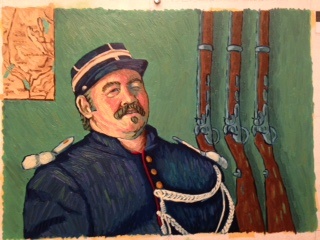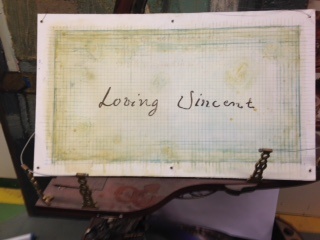 ---
Comments:
No comments
Post a comment